We found your perfect match!
25% off with code: COCO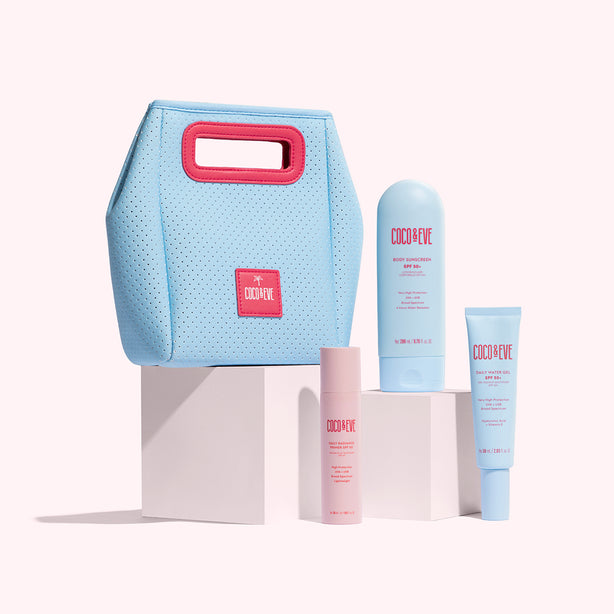 SPF & Go Set
Your perfect poolside playmates! Our ultra protective SPFs bundled up for on-the-go protection.
Terms and Conditions
Daily Radiance Primer SPF50+ Sunscreen: You can apply the Daily Radiance Primer as the last step in your skin care routine. It works perfectly as a base for your make up! Just make sure to apply it 20 minutes before sun exposure for maximum protection.

Daily Water Gel SPF50+ Sunscreen: We recommend to reapply the Daily Water gel frequently. If you are exposed to direct sunlight, please reapply regularly.

Body Sunscreen SPF50+: Apply the Body Sunscreen 20 minutes before going out in the sun. Apply liberally across the body, arms and hands.

Can I use the Daily Water Gel Sunscreen SPF50, Body Sunscreen SPF50 and Daily Radiance Primer SPF50 Sunscreen every day?

Yes, our sunscreens are perfect for daily use, providing you with sun protection everyday and finishing skin with a gorgeous radiant glow!

Do these sunscreens work well with sensitive skin?

Absolutely! So it should be suitable for even the most sensitive skin. However, keep in mind that everyone's skin is different, and what works for one person may not work for another. It's also important to consider other factors that can contribute to acne, and to consult with a dermatologist if you have persistent or severe acne.

How do these sunscreens protect my skin?

Daily Water Gel SPF 50+ Sunscreen & Body Sunscreen SPF 50+:
Australian made SPF 50+ sunscreen shields against UVA and UVB rays and protects against sun damage and photo-ageing.


Daily Radiance Primer SPF 50 Sunscreen:
SPF 50 offers full coverage and protection against UVA and UVB rays, while Vita Ray-immune protects against blue light and fights premature skin ageing.

Niacinamide works with the natural substances in your skin to help visibly minimise enlarged pores and soften fine lines and wrinkles.

A white tea extract provides anti-pollution, anti-inflammatory and antioxidant benefits.

See all Product FAQs

We offer FREE Standard Shipping on all merchandise orders that are $80 and over.

Region
Standard Shipping
(Orders over $80)
Standard Shipping
(Orders under $80)
METRO. area
3 - 4 days
FREE
3 - 4 days
$8.90
Regional
5 - 7 days
FREE
5 - 7 days
$8.90
Remote areas
6 - 8 days
FREE
6 - 8 days
$8.90
New Zealand
3 - 4 days
$12.90
3 - 4 days
$12.90

Return & Refund Policy

We offer a 30 day return & refund policy with a 100% money back guarantee. For more details see more.

Contact our customer service team, click here.
Shop the Routine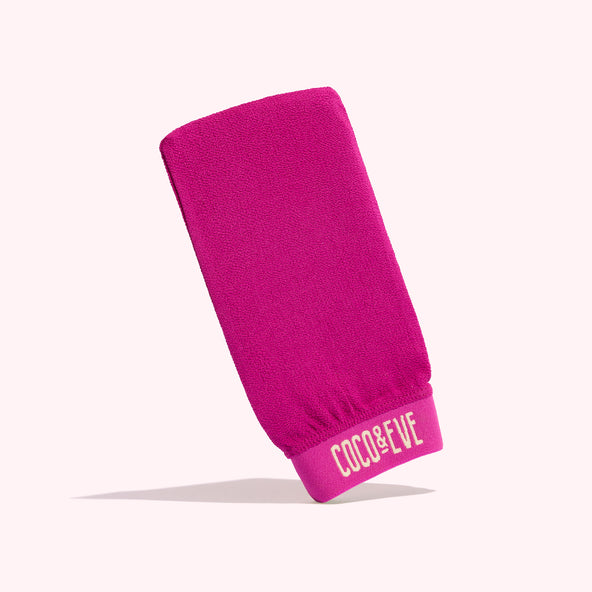 Thoughtful at every step
At Coco & Eve, we're passionate about creating the very best products for your hair, skin and body, while taking care of our one precious planet. Inspired by the incredible plants, wildlife and people of our beautiful birthplace of Bali, we're committed to making a positive, lasting impact.
We consider every action we take to ensure our slice of Paradise survives and thrives – ready to enchant future generations of explorers.
Read more