We found your perfect match!
25% off with code: COCO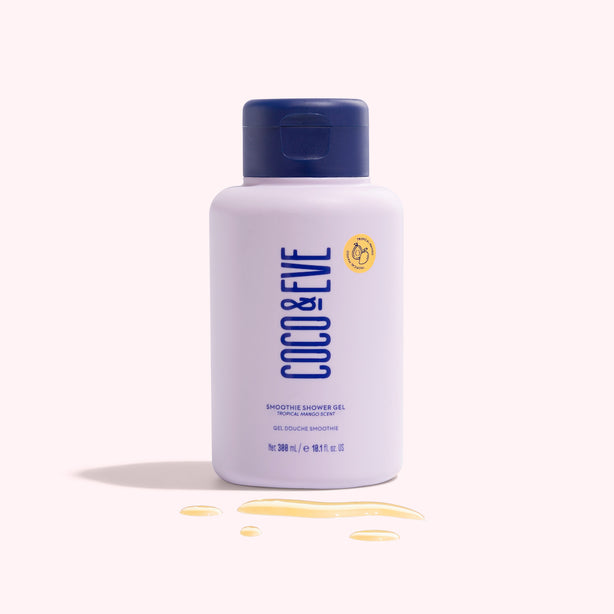 Smoothie Shower Gel
Lather up with our Balinese fruit bowl-inspired shower gels! Cleanse, hydrate and nourish your bod with the daily dose of vitamins, minerals & prebiotics it needs for healthy, glowing skin.
Terms and Conditions
1. Rinse your skin with lukewarm water.

2. Dispense a liberal amount of shower gel on your palm, working your way all over your bod in circular motions to create a luscious foam. For a richer lather, we recommend using a washcloth or loofah.

3. Wash off the suds, and pat yourself dry with a towel.

Frequency: Our pH balanced shower gels are perfect for everyday use.

Good to know: Finish up your shower routine with our Body Moisture Whip to keep skin plump, supple & nourished all day long.

What is Smoothie Shower Gel?

A gentle cleansing shower gel powered by prebiotics and Balinese Botanicals for healthy, glowing skin.

How often should I use this?

Our Smoothie Shower Gels are fit for daily use! Rich in skin superfoods like coconut, aloe vera, and mangosteen, our gels leave you feeling supple, smooth, and refreshed without drying and damaging skin.

How many scents are available?

We've crafted our Smoothie Shower Gels in two of our most iconic scents to go with your favourite hair and skin regimes. Choose from Dragonfruit & Lychee or Tropical Mango!

See all Product FAQs

We offer FREE Standard Shipping on all merchandise orders that are $80 and over.

Region
Standard Shipping
(Orders over $80)
Standard Shipping
(Orders under $80)
METRO. area
3 - 4 days
FREE
3 - 4 days
$8.90
Regional
5 - 7 days
FREE
5 - 7 days
$8.90
Remote areas
6 - 8 days
FREE
6 - 8 days
$8.90
New Zealand
3 - 4 days
$12.90
3 - 4 days
$12.90

Return & Refund Policy

We offer a 30 day return & refund policy with a 100% money back guarantee. For more details see more.

Contact our customer service team, click here.
Thoughtful at every step
At Coco & Eve, we're passionate about creating the very best products for your hair, skin and body, while taking care of our one precious planet. Inspired by the incredible plants, wildlife and people of our beautiful birthplace of Bali, we're committed to making a positive, lasting impact.
We consider every action we take to ensure our slice of Paradise survives and thrives – ready to enchant future generations of explorers.
Read more