We found your perfect match!
25% off with code: COCO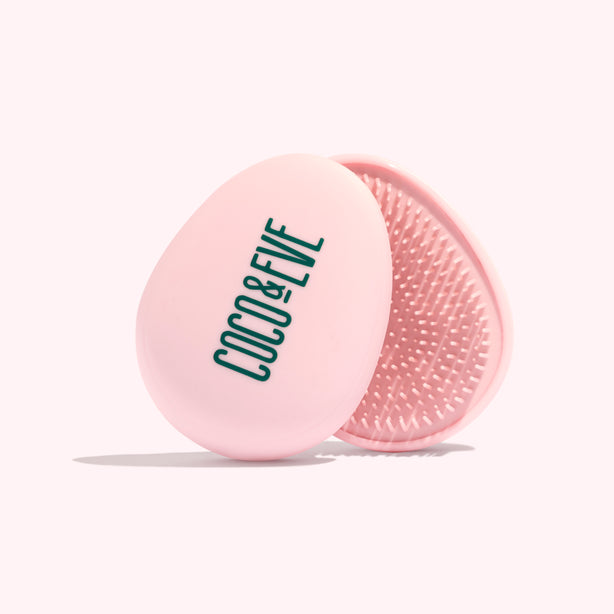 Tangle Tamer
Terms and Conditions
1. Brush hair as normal throughout the day when needed.

2. Use with our Hair Masque: Open up our masque, and take a handful of formula. Apply it to your hair, and work from tip all the way to ear-level. Run the Tangle Tamer from end to end to ensure an even application of our miracle masque. Leave on for 10, and rinse with warm water. Voila! Hair health restored. You're welcome.

What is a Tangle Tamer?

The Tangle Tamer is a unique 2-tiered bristle technology that works for all hair types. It gently detangles hair, and minimizes breakage and damage, while maximizing the application of our hair mask.

When do I use the Tangle Tamer provided, before or after application?

During! When applying the hair masque you should comb it through to the ends to make sure you've applied it to every last strand. You can also use it like a normal brush as it's perfect to glide through your hair.

What is the Tangle Tamer made of?

The lid of the brush is made of Acrylonitrile Styrene (AS), and the teeth are Thermoplastic Polyether Ester Elastomer (TPEE). The patented teeth formation bends and flexes, working through even the toughest tangles, minimizing any breakage and damage.

See all Product FAQs

We offer FREE Standard Shipping on all merchandise orders that are $80 and over.

Region
Standard Shipping
(Orders over $80)
Standard Shipping
(Orders under $80)
METRO. area
3 - 4 days
FREE
3 - 4 days
$8.90
Regional
5 - 7 days
FREE
5 - 7 days
$8.90
Remote areas
6 - 8 days
FREE
6 - 8 days
$8.90
New Zealand
3 - 4 days
$12.90
3 - 4 days
$12.90

Return & Refund Policy

We offer a 30 day return & refund policy with a 100% money back guarantee. For more details see more.

Contact our customer service team, click here.
Thoughtful at every step
At Coco & Eve, we're passionate about creating the very best products for your hair, skin and body, while taking care of our one precious planet. Inspired by the incredible plants, wildlife and people of our beautiful birthplace of Bali, we're committed to making a positive, lasting impact.
We consider every action we take to ensure our slice of Paradise survives and thrives – ready to enchant future generations of explorers.
Read more