We found your perfect match!
25% off with code: COCO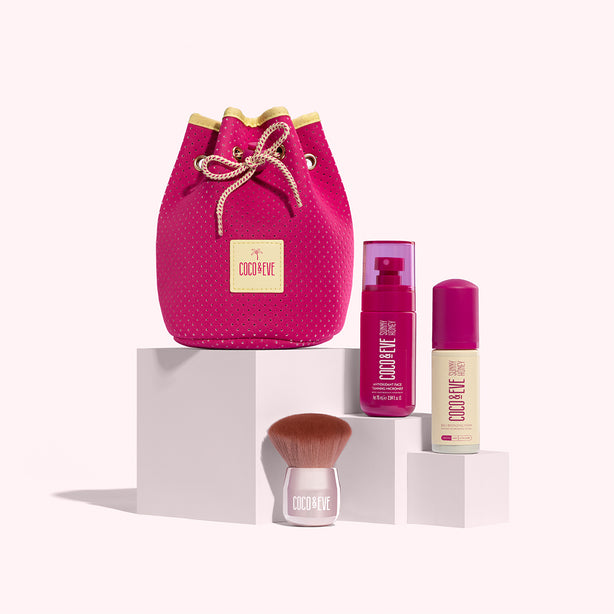 Tan Masters Set
Master the art of a flawless faux glow with the Tan Masters Kit. Three tanning essentials in a luxe glow-getter pouch.
Terms and Conditions
Antioxidant Face Tanning Micromist:

1. Cleanse your face and neck area.

2. Apply directly on to the face and neck by spraying a light layer all over for instant hydration. Allow up to 30 seconds to absorb.

3. Complete your skincare routine with serums, eye creams and moisturisers once the product is fully absorbed.

4. Allow up to 6 hours for the tan to fully develop.

Frequency: Use as often as required throughout the week as part of your usual skincare routine.

Bali Bronzing Foam:

1. Remove unwanted hair and exfoliate thoroughly (ideally 6-24 hours before).

2. Apply to dry skin, free from moisturisers.

3. Use Mitt & Brush to apply to tricky areas like the feet, hands, face & ears.

4. Allow to develop for a minimum of 2 hours or overnight for a deeper tan.

5. Shower in warm water to remove the guide colour and pat skin dry.

6. Repeat every 5-7 days or when needed. Moisturise daily to maintain results.

Limited Edition Face Kabuki Brush: Pump a pea size of Sunny Honey Self Tanning mousse onto the brush. Apply in a circular motion. Gradually apply more product until the are is sufficiently covered.

How long does one application of the Antioxidant Face Tanning Micromist last?

To keep the natural sun-kissed glow 24/7, we recommend a reapplication every 2-4 days as it differs for individuals according to your skin type.

How far from my face should I hold the Face Tanning Micromist bottle when misting?

To effectively apply the Face tanning Micromist, simply spritz the product about 20cm from your face and let the product work its magic!

How do I clean the Face Kabuki Brush?

After use, rinse until water runs clear. Dry with bristle facing downwards.

I have acne prone skin, will Sunny Honey cause me to breakout?

Our Sunny Honey formula is perfect for all skin types! It contains ingredients that have a low comedogenic rating meaning it will not clog pores and cause breakouts.

See all Product FAQs

We offer FREE Standard Shipping on all merchandise orders that are $80 and over.

Region
Standard Shipping
(Orders over $80)
Standard Shipping
(Orders under $80)
METRO. area
3 - 4 days
FREE
3 - 4 days
$8.90
Regional
5 - 7 days
FREE
5 - 7 days
$8.90
Remote areas
6 - 8 days
FREE
6 - 8 days
$8.90
New Zealand
3 - 4 days
$12.90
3 - 4 days
$12.90

Return & Refund Policy

We offer a 30 day return & refund policy with a 100% money back guarantee. For more details see more.

Contact our customer service team, click here.
Thoughtful at every step
At Coco & Eve, we're passionate about creating the very best products for your hair, skin and body, while taking care of our one precious planet. Inspired by the incredible plants, wildlife and people of our beautiful birthplace of Bali, we're committed to making a positive, lasting impact.
We consider every action we take to ensure our slice of Paradise survives and thrives – ready to enchant future generations of explorers.
Read more