We found your perfect match!
25% off with code: COCO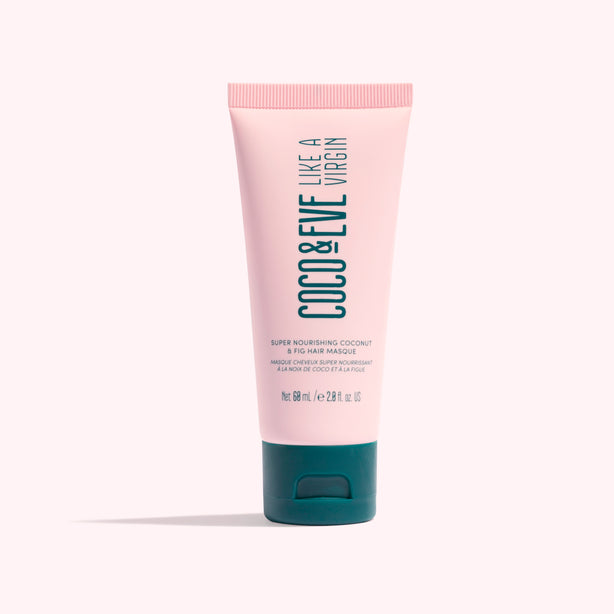 Like a Virgin Hair Mask Deluxe Travel Size
Our multi-award winning hair masque revives your hair from the inside-out.
Terms and Conditions
1. Shampoo your hair as normal then evenly distribute a generous amount of coconut hair mask to your towel dried hair.

2. Comb the product through the hair using our tangle tamer.

3. Leave for 5 to 10 minutes then rinse with warm water.

4. Keep the masque in overnight using our microfibre towel wrap and wash out in the morning for super damaged hair or for even better results.

Is it suitable for thin hair?

Yes - our hair masque is suitable for all hair types.

Does you hair masque contain sulphates?

Nope, our hair masque is sulphate, phlalate and paraben free! (so no nasty bits like other over-the-counter treatments or masques.)

Can I apply the hair mask to dry hair?

Yes! If you're willing to make a time commitment, apply your mask to dry hair and let it absorb for about 20 minutes or overnight if you feel that your hair is extra thirsty.

Is the masque okay to use with chemically straightened/dyed hair?

Yes! It will actually really benefit hair damaged from dyes, heat, styling and chemicals by repairing, nourishing and strengthening it.

See all Product FAQs

We offer FREE Standard Shipping on all merchandise orders that are $80 and over.

Region
Standard Shipping
(Orders over $80)
Standard Shipping
(Orders under $80)
METRO. area
3 - 4 days
FREE
3 - 4 days
$8.90
Regional
5 - 7 days
FREE
5 - 7 days
$8.90
Remote areas
6 - 8 days
FREE
6 - 8 days
$8.90
New Zealand
3 - 4 days
$12.90
3 - 4 days
$12.90

Return & Refund Policy

We offer a 30 day return & refund policy with a 100% money back guarantee. For more details see more.

Contact our customer service team, click here.
Thoughtful at every step
At Coco & Eve, we're passionate about creating the very best products for your hair, skin and body, while taking care of our one precious planet. Inspired by the incredible plants, wildlife and people of our beautiful birthplace of Bali, we're committed to making a positive, lasting impact.
We consider every action we take to ensure our slice of Paradise survives and thrives – ready to enchant future generations of explorers.
Read more