We found your perfect match!
25% off with code: COCO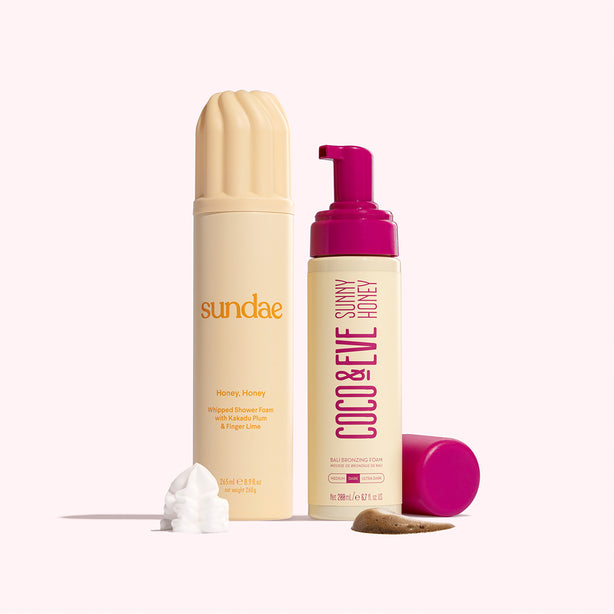 Coco & Eve X Sundae: Honey Glow Set
Transform your skin from dull to dazzling with our perfect duo! Sundae's Honey, Honey Body Wash nourishes and moisturizes, while our Bali Bronzing Foam delivers a natural, sun-kissed tan.
Terms and Conditions
Sunny Honey Bali Bronzing Foam:

1. Remove unwanted hair and exfoliate thoroughly (ideally 6-24 hours before.)

2. Apply to dry skin, free from moisturisers.

3. Use Mitt & Brush to apply to tricky areas like the feet, hands, face & ears.

4. Allow to develop for a minimum of 2 hours or overnight for a deeper tan.

5. Shower in warm water to remove the guide colour and pat skin dry.

6. Repeat every 5-7 days or when needed. Moisturise daily to maintain results.

Honey, Honey Foaming Body Wash:

1. Shake the bottle and turn upside down. Spray a small amount onto your palm.

2. Lather the foam over the body and rinse off.

Which Sunny Honey colour should I go for?

Sunny Honey Self-Tan aims to get you a natural finish! So when choosing which colour to go for, consider what skin tone you are naturally and how dark you would like to go. If you have a lighter skin tone with pink undertones, try our Medium tan to give your skin a subtle glow. If you are a natural medium skin tone aiming for a "just back from holiday" glow, try our Dark tan. If you have deeper skin and want an extra glow boost and to even your skin tone, go ahead and try our Ultra Dark tan.

I have acne prone skin, will Sunny Honey cause me to breakout?

Our Sunny Honey formula is perfect for all skin types! It contains ingredients that have a low comedogenic rating meaning it will not clog pores and cause breakouts.

What is the best way to apply Honey, Honey Foaming Body Wash?

Give the bottle a good shake and turn it upside down. Spray a dollop in the palm of your hand and lather up. Rinse off for silky, smooth skin!

How does Honey, Honey Foaming Body Wash exfoliate my skin?

Honey, Honey Foaming Body Wash contains finger lime, a natural source of active exfoliators. This allows for gentle exfoliation and leaves your skin smoother and brighter.

See all Product FAQs

We offer FREE Standard Shipping on all merchandise orders that are $80 and over.

Region
Standard Shipping
(Orders over $80)
Standard Shipping
(Orders under $80)
METRO. area
3 - 4 days
FREE
3 - 4 days
$8.90
Regional
5 - 7 days
FREE
5 - 7 days
$8.90
Remote areas
6 - 8 days
FREE
6 - 8 days
$8.90
New Zealand
3 - 4 days
$12.90
3 - 4 days
$12.90

Return & Refund Policy

We offer a 30 day return & refund policy with a 100% money back guarantee. For more details see more.

Contact our customer service team, click here.
Thoughtful at every step
At Coco & Eve, we're passionate about creating the very best products for your hair, skin and body, while taking care of our one precious planet. Inspired by the incredible plants, wildlife and people of our beautiful birthplace of Bali, we're committed to making a positive, lasting impact.
We consider every action we take to ensure our slice of Paradise survives and thrives – ready to enchant future generations of explorers.
Read more