We found your perfect match!
25% off with code: COCO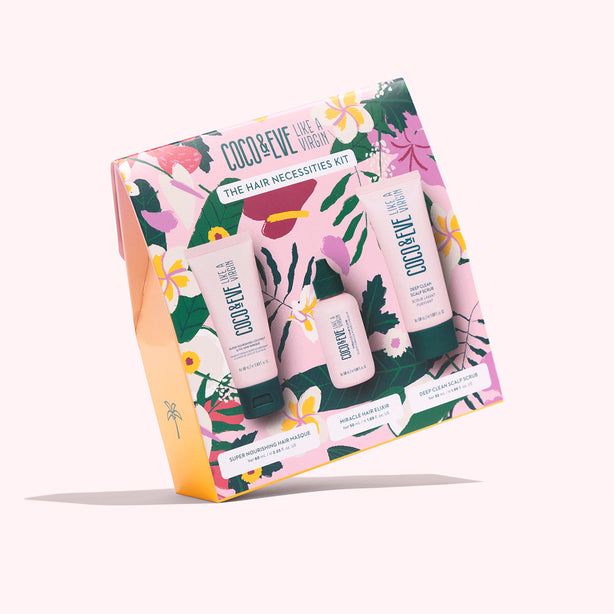 Hair Necessities Set
Upgrade your hair routine with our haircare essentials! Complete with a refreshing Scalp Scrub, award-winning Hair Masque, and multi-functioning Hair Elixir.
Terms and Conditions
Scalp Scrub: Apply Scalp Scrub directly to the scalp moving across the hairline. Massage into head for 20-30 seconds, and rinse thoroughly with warm water and shampoo.

Hair Masque: After shampooing, apply a generous amount to clean, damp hair. Leave on for 10 minutes before rinsing with warm water.

Hair Elixir: Use as a hair oil, pre-styler, or finisher for smooth, sleek, silky hair.

How often should I use each product?

Scalp Scrub: Use 1-2 times a week to remove build up of oil, product, and impurities.
Hair Masque: Use 2-3 times a week as an intense nourishing treatment.
Hair Elixir: Use daily as a hair treatment, as a pre-styling heat protection oil, and also as a finishing touch to style hair.


What Does The Deep Clean Scalp Scrub Treatment Do?

The deep clean scalp treatment revives and renews the scalp by utilizing high-quality ingredients to combat a dry and flaky scalp.
Our caffeine-infused scalp cleaning treatment formula helps to strengthen hair follicles and calm an itchy or dry scalp.
The scalp scrub is perfect for irritated scalps from bleaching and dying, and dandruff-prone scalps.

Is the Hair Masque okay to use with chemically straightened/dyed hair?

Yes! It will really benefit hair that is damaged from dyes, heat, styling and chemicals by repairing, nourishing and strengthening it.

Does the Hair Elixir help with split ends?

It helps to keep hair healthy, nourished and moisturised and prevent the hair becoming brittle and frayed. Apply 1-2 drops of the Hair Elixir to lock in the moisture and control the frizz.

See all Product FAQs

We offer FREE Standard Shipping on all merchandise orders that are $80 and over.

Region
Standard Shipping
(Orders over $80)
Standard Shipping
(Orders under $80)
METRO. area
3 - 4 days
FREE
3 - 4 days
$8.90
Regional
5 - 7 days
FREE
5 - 7 days
$8.90
Remote areas
6 - 8 days
FREE
6 - 8 days
$8.90
New Zealand
3 - 4 days
$12.90
3 - 4 days
$12.90

Return & Refund Policy

We offer a 30 day return & refund policy with a 100% money back guarantee. For more details see more.

Contact our customer service team, click here.
Thoughtful at every step
At Coco & Eve, we're passionate about creating the very best products for your hair, skin and body, while taking care of our one precious planet. Inspired by the incredible plants, wildlife and people of our beautiful birthplace of Bali, we're committed to making a positive, lasting impact.
We consider every action we take to ensure our slice of Paradise survives and thrives – ready to enchant future generations of explorers.
Read more