We found your perfect match!
25% off with code: COCO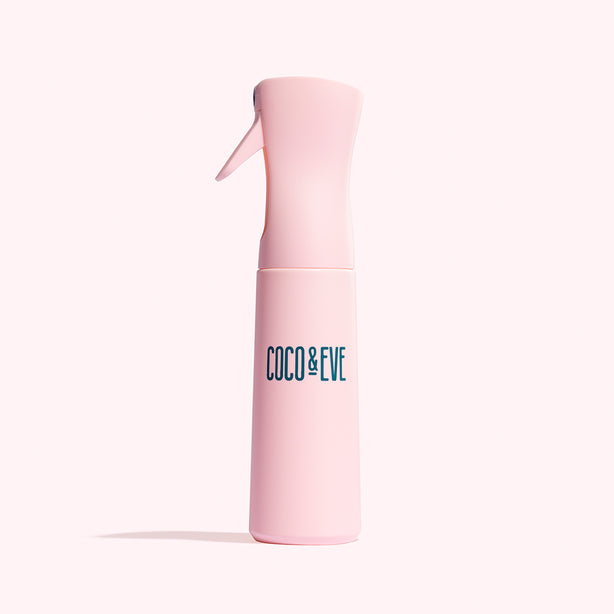 Fine Mist Spray Bottle
Your perfect companion for detangling, styling or pre-treatment!
Terms and Conditions
Fill the bottle with water or product. To open and close it, simply twist the lid. It may take a few pumps to activate the mist on the first use.

Which Coco & Eve products can you use with the Fine Mist Spray Bottle?

The Fine Mist Spray Bottle is the perfect companion to our Bond Building Pre Shampoo Treatment. Use it to dampen your hair before applying the treatment!

Is the Fine Mist Spray bottle refillable?

Yes, our Fine Mist Spray Bottle is refillable and reusable. Use it with water or product to prepare your hair for treatment and styling.

See all Product FAQs

We offer FREE Standard Shipping on all merchandise orders that are $80 and over.

Region
Standard Shipping
(Orders over $80)
Standard Shipping
(Orders under $80)
METRO. area
3 - 4 days
FREE
3 - 4 days
$8.90
Regional
5 - 7 days
FREE
5 - 7 days
$8.90
Remote areas
6 - 8 days
FREE
6 - 8 days
$8.90
New Zealand
3 - 4 days
$12.90
3 - 4 days
$12.90

Return & Refund Policy

We offer a 30 day return & refund policy with a 100% money back guarantee. For more details see more.

Contact our customer service team, click here.
Thoughtful at every step
At Coco & Eve, we're passionate about creating the very best products for your hair, skin and body, while taking care of our one precious planet. Inspired by the incredible plants, wildlife and people of our beautiful birthplace of Bali, we're committed to making a positive, lasting impact.
We consider every action we take to ensure our slice of Paradise survives and thrives – ready to enchant future generations of explorers.
Read more