We found your perfect match!
25% off with code: COCO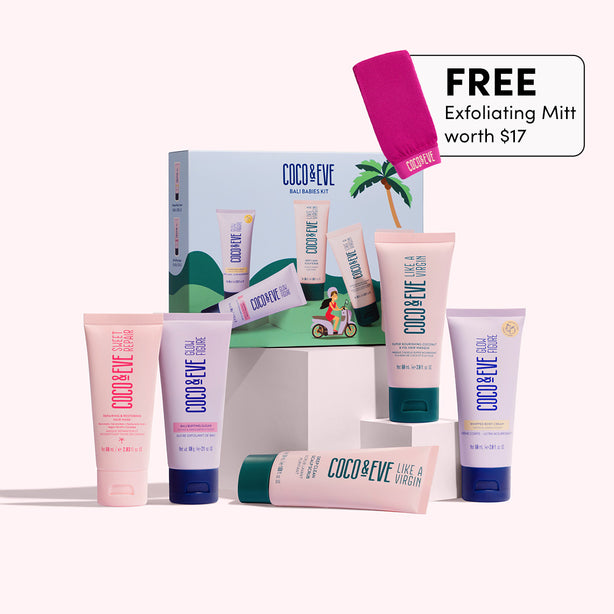 Bali Babies Set
Take your favourite beauty products with you wherever you go! Featuring our top hair and body essentials for that top-to-toe holiday glow.
Terms and Conditions
Like a Virgin Hair Masque 60ml & Sweet Repair Hair Mask 60ml:

1. Shampoo your hair as normal then evenly distribute a generous amount of hair mask to your towel dried hair.

2. Comb the product through the hair using our tangle tamer.

3. Leave for 5 to 10 minutes then rinse with warm water.

4. Keep the masque in overnight using our microfibre towel wrap and wash out in the morning for super damaged hair or for even better results.

Deep Clean Scalp Scrub 50ml: On damp hair, using the spatula, part hair and apply the Coco and Eve scalp scrub directly to the scalp moving across the hairline. Massage the deep scalp treatment into the head for 20-30 seconds then rinse thoroughly with warm water and shampoo.

Body Moisture Whip 60ml: Cap off your Glow Figure ritual with a generous handful of our Body Moisture Whip and massage generously into dry skin. Our whip may be fast-absorbing, fast-acting, but don't be fooled. One application will give you all the hydration you need to power through a day.

Bali Buffing Sugar 60ml: Take a mitt-ful of our buffing sugar, and massage your skin in circular motions from your feet, to neck. Pay attention to dry areas such as your knees and elbows, and wash off with lukewarm water.

How often should I use the Bali Buffing Sugar and Body Moisture Whip?

You can use the Body Moisture Whip daily - morning or night! The Bali Buffing Sugar can be used two to three times per week.

Is the Like a Virgin Hair Masque okay to use with chemically straightened/dyed hair?

Yes! It will really benefit hair that is damaged from dyes, heat, styling and chemicals by repairing, nourishing and strengthening it.

What hair types can you use the Sweet Repair Hair Mask on?

This Sweet Repair range is suitable for all hair types and specifically designed to target damage, dry and weak hair prone to breakage. It can be used for highly damaged hair, dry and easily broken hair requiring more intensive repairing treatment due to chemical, mechanical or heat damage (ie. frequent hair dye, frequent hair styling, combing, hair straightening, blow drying with high heat, excessive sun exposure).

Will the Deep Clean Scalp Scrub help with flaking?

Yes, our Deep Clean Scalp Scrub is the perfect product to combat scalp flakiness. The scalp treatment uses ingredients such as passionfruit, coconut, peppermint oil, and more to help soothe dandruff and scalp flakiness.

See all Product FAQs

We offer FREE Standard Shipping on all merchandise orders that are $80 and over.

Region
Standard Shipping
(Orders over $80)
Standard Shipping
(Orders under $80)
METRO. area
3 - 4 days
FREE
3 - 4 days
$8.90
Regional
5 - 7 days
FREE
5 - 7 days
$8.90
Remote areas
6 - 8 days
FREE
6 - 8 days
$8.90
New Zealand
3 - 4 days
$12.90
3 - 4 days
$12.90

Return & Refund Policy

We offer a 30 day return & refund policy with a 100% money back guarantee. For more details see more.

Contact our customer service team, click here.
Thoughtful at every step
At Coco & Eve, we're passionate about creating the very best products for your hair, skin and body, while taking care of our one precious planet. Inspired by the incredible plants, wildlife and people of our beautiful birthplace of Bali, we're committed to making a positive, lasting impact.
We consider every action we take to ensure our slice of Paradise survives and thrives – ready to enchant future generations of explorers.
Read more